As of today, individuals from the Food Bank of Lincoln and the Food Bank for the Heartland are out in their communities delivering bins for the annual Scruff 4 Schools initiative that begins tomorrow. The purpose? To continue the fight against childhood hunger in Nebraska. There are a lot of great causes out there during the holiday season, but this one means so much to the Five Nines team, and we hope you take the time to learn a little more about it.
Here's why you should help us raise food, funds, and awareness for Scruff 4 Schools throughout November.
WHAT IS IT?
Scruff 4 Schools is an annual initiative put together by the Five Nines team that focuses on fighting childhood hunger throughout the state. Why childhood hunger? After seeing the statistic that 1 in 6 children don't know where their next meal is going to come from, we knew it was the right cause for us, which is why we decided to dedicate the month of November each year to the cause.
Throughout the month of November Five Nines promotes partners to collect food in their offices while collecting food and raising donations and awareness ourselves. All donations benefit the Backpack Program in emergency situations for Nebraska Public School students. In Nebraska, 227,350 people are food insecure, and 80,070 of those individuals are children. Last year Five Nines and its' partners raised 10,215 meals for children throughout Nebraska, and we hope to increase the stats again this year.
HOW TO HELP
If you or your business would like to support Scruff 4 Schools, there are several ways to get involved to help make a difference.
It's not too late to let our team drop off a barrel to be placed in your office throughout the month of November so that you and your team can collect non-perishable food items. If you're ready to start collecting food, please click here to request a bin.
Help Five Nines raise funds to stop childhood hunger by donating directly to the food banks. For every 1 dollar donated, the food bank can provide a child 3 meals. Last year, some of our partners added a fun spin to their Scruff for Schools support by offering jeans or t-shirt days to their staff for a $5 donation! You can donate directly to the food banks by clicking here and scrolling.
Support the newest Driving 4 Donations campaign. New to this year, the Five Nines team will be driving across Nebraska to local Hy-Vee's to collect nonperishable food items to benefit Scruff 4 Schools. If we will be in your area, please stop by with your team to donate. We would love to see you there!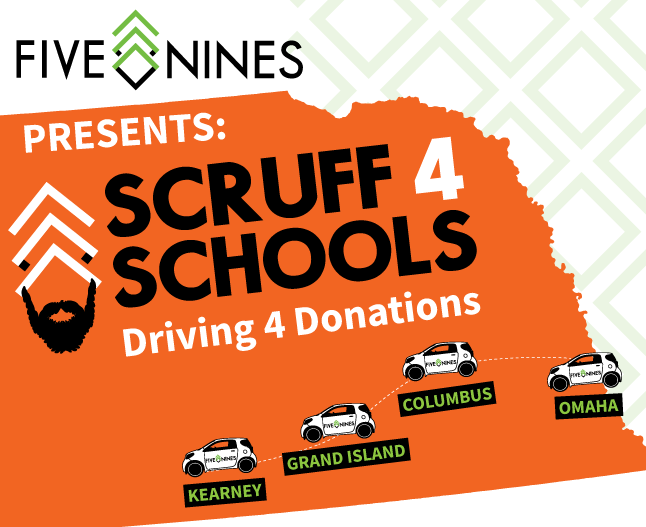 Increase awareness for the cause by following the Scruff 4 Schools 2018 Event Page hosted by Five Nines. If you post about the cause, feel free to tag Five Nines (@GoNines) or use the hashtags #Scruff4Schools and #Driving4Donations. Another method of awareness would be to grow out your "scruff" throughout the month of November to honor the fight against childhood hunger.
FAQ'S
Why is it called Scruff 4 Schools?
The initiative is called Scruff 4 Schools because it is Five Nines' spin on No-Shave November. The "scruff" is just another method of awareness.
What percentage of the proceeds goes towards the cause?
100% of the donations and proceeds go to the local food banks to support their Backpack Programs.
Do you have to be a Five Nines partner to participate?
No, we are looking to build upon Five Nines' mission to give back to communities we serve across Nebraska, and we want to include whoever is excited to participate.
Who can we contact if we have additional questions?
Please contact marketing@gonines.com with any questions about the Scruff 4 Schools initiative!